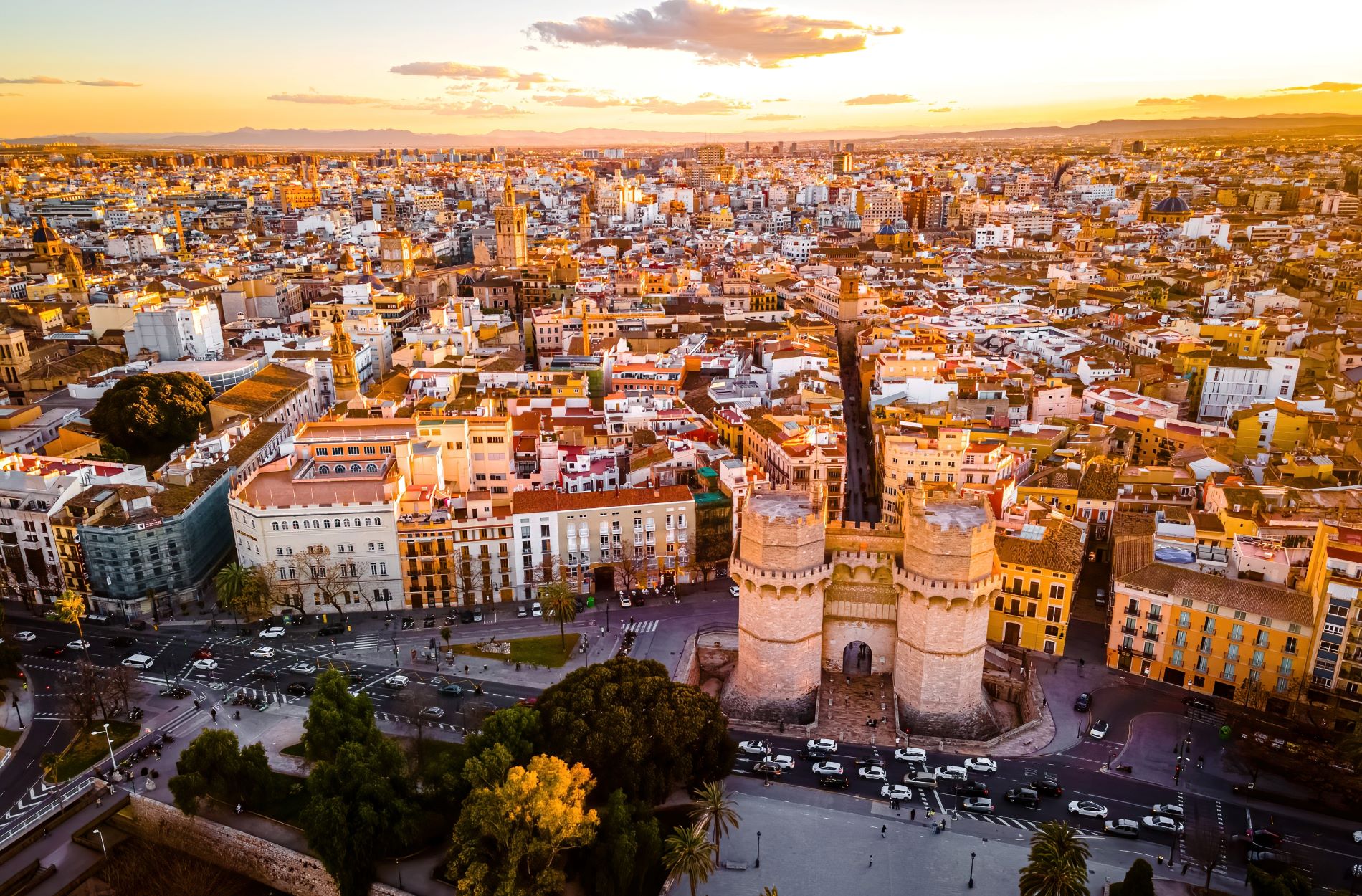 Teach in Valencia
Join us as Language Assistants in the Valencian Community for 2023/24 ✨
Language Assistant Jobs in Spain
Are you a native English speaker looking for an exciting opportunity to make a difference in the education sector? This could be the opportunity you've been waiting for! TEFL UK is currently seeking 80 English Language Support Assistants to join the team. In collaboration with Intermediate and Higher Level training cycles, you will reinforce multilingualism in the vibrant Valencian Community.
Not only will you have the chance to inspire and guide students, but you'll also enjoy a competitive salary of €1,400 net per month. If you're ready to immerse yourself in Spanish culture and make a lasting impact, we invite you to join us for the upcoming academic year. Contracts run from September 1, 2023, to June 30, 2024. Are you up for the challenge?
Benefits
International teaching jobs Spain
Valencia
Competitive local salary

Salary: €1,500 - €1,600 Gross/month

Training

Orientation and training on arrival

In-country support

Continual assistance throughout your stay in Spain

Visa support

Assistance with work permit

Career growth

Enhance your knowledge and skills

International team

Work closely alongside local teachers in a collaborative partnership

Convenient schedule

24 hours/week

Stable contract

Spend 10 months in Spain
About your role
Engage in targeted conversation practices with students and teachers, honing your language skills and cultural understanding.
Teach students about the rich culture and traditions of your home country, fostering intercultural exchange and appreciation.
Collaborate with teaching staff to develop instructional materials that enhance students' learning experiences.
Create audio recordings in your native language, serving as valuable examples of native speaking for language teachers to utilize.
Make a meaningful contribution to the professional development and training of the center's teachers, sharing your expertise and insights.
Requirements
Bachelor's degree.
Teaching experience preferred.
Native English speaker or C1 English level officially certified.
Must be eligible to work in the EU / have an EU work permit in place.

Outgoing and loves working with people.
FAQs
By becoming a language assistant in Valencia, you can immerse yourself in the vibrant culture of Spain while gaining valuable teaching experience. You'll enjoy a convenient timetable, collaborate with local teachers, and receive a competitive salary. It's an opportunity to enhance your language skills, develop professionally, and make a positive impact on students' language learning journeys.

Collaborating with local teachers allows you to gain valuable insights, exchange teaching methodologies, and expand your professional network. It's an opportunity to enhance your teaching skills, learn about different educational approaches, and foster intercultural exchange. Working closely with experienced teachers will enrich your own teaching practice and contribute to your professional development.

As a language assistant, you have the unique opportunity to share your country's culture with students in Valencia. You can introduce them to traditions, customs, and important aspects of your culture, fostering a deeper understanding and appreciation. Teaching the culture of your country adds richness to the language learning experience and promotes intercultural competence among students.

As a language assistant, you collaborate with teaching staff to create materials that support students' learning process. Your input helps tailor activities and resources to meet students' needs. By bringing your own perspective and insights, you contribute to creating engaging and effective learning experiences, making a positive impact on students' language acquisition.

Recording recordings in your native language provides valuable examples of authentic, native speaking for language teachers in Valencia. These recordings serve as useful resources to enhance pronunciation, intonation, and language comprehension for students. Your contribution helps language teachers provide high-quality language instruction and improves students' overall language skills.

As a language assistant, you can contribute to the training of the center's teachers by sharing your language expertise, teaching methodologies, and cultural insights. Your unique perspective and experience enrich the professional development opportunities for local teachers. By fostering collaboration and knowledge exchange, you can contribute to the continuous growth and improvement of the teaching staff.

Valencia offers a dynamic and diverse environment for teaching English. It boasts a rich cultural heritage, stunning architecture, beautiful beaches, and a vibrant local community. Teaching in Valencia allows you to immerse yourself in Spanish culture, learn the local language, and explore the region's breathtaking attractions. It's a perfect blend of professional growth and personal adventure.

Being a language assistant in Valencia adds valuable international teaching experience to your resume. It showcases your adaptability, cross-cultural communication skills, and ability to work in diverse environments. The experience gained as a language assistant enhances your professional profile and opens doors to future teaching opportunities worldwide. It's a stepping stone towards a rewarding career in education.
Want to teach in Spain?
We've got you covered! Discover our teaching jobs in Spain and launch an exciting career as an international teacher. To apply for this role, fill out the below application form and an advisor will contact you with next steps.