Teach English in Italy
Paid teaching jobs in Italy hiring now! ✨
Teach English in Italy
TEFL UK are delighted to introduce new and exciting teaching jobs in Italy with an established language school that is highly committed to both teaching and learning. You will join a vibrant team who will support your Italian journey every step of the way.
Currently, the organization serves 50 schools across Spain, France, and Italy, and is still expanding! The school takes great pride in being an innovative leader in the field of EFL, a great place to work and learn, and, most importantly, a place where people— staff members and students—come first.
Benefits
Package for Europe teaching jobs
Italy - Spain - France
Competitive local salary

Up to EUR 1,250 after tax

Paid holiday

Annual leave

Sick pay

SSP provided

Stay one or two semesters

6 / 12 month contracts

Training

Orientation and training on arrival

Career Progression Opportunities

Projects and development within company

Overtime

Additional hours usually available

Beautiful locations

35 cities across Italy, Spain and France

Full time hours

Around 25 contact hours per week
A Communicative Approach
Student Centred
Students do the speaking, teachers encourage, guide, check, correct and train.
Fun and Friendly
Enjoyable, natural lessons with lots of roleplay, speaking and realistic language.
Technology
Visuals on screen take emphasis off teacher for language input. Online Warm-Ups before lesson prepare students for content.
Small Groups
Small groups of students ensure higher speaking time for each student, and more practical learning.
Join the team
Why work for us?
Be part of a young, dynamic and welcoming team of international teachers
Focus on teaching, learning and sharing your knowledge
Regular meet ups and workshops
Ongoing training
Support with projects and events
Your teaching home away from home
Love teaching at modern, well equipped centers and enjoy open plan spaces with sofas, plants, rugs, pictures and TVs!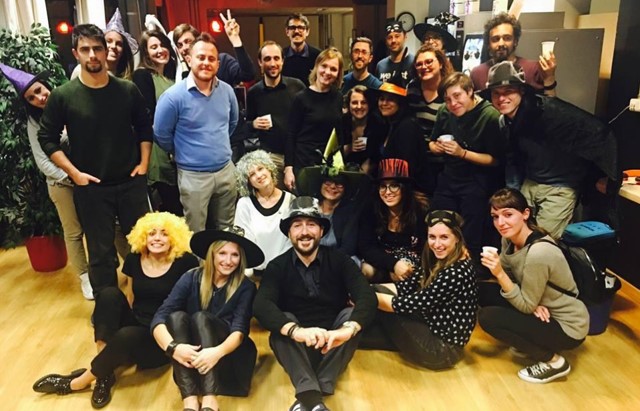 About Italy teaching jobs
Each month, teachers and staff collaborate to plan fun and educational activities for students, such as cultural nights, phonetics or linguistics events, clubs, social outings, parties, movie nights, sporting events, music nights, and so on. We pool our thoughts to develop original new ideas for students, giving them the chance to practise their English and socialise outside of the classroom.
Participate in a busy social scene and apply your passions and perspectives to the good of the students!
Where can I teach English in Europe?
Grow your teaching career in the heart of Europe. Over 30 fantastic locations are available including:

Barcelona - Bari Bergamo - Bologna - Brescia - Busto Arsizio
Cagliari - Como - Dijon - Ferrara - Florence - Genoa - Livorno
Lyon - Madrid - Milano - Modena - Monza - Naples
Novara - Padua - Palermo - Parma - Perugia - Pescara - Reggio Emilia
Rimini - Rome - Trento - Treviso - Trieste - Turin
Venice Mestre - Verona - Valencia
About you
Native or native level English speaker (C2+)
EU citizenship or permit to work in EU
Teachers already residing in Italy are encouraged to apply
Degree not required
Fast-track work permits also available for nationals of Canada due to working holiday visa agreement
Want to teach in Italy?
We've got you covered! Discover our teaching jobs in Italy and launch an exciting career as an international teacher. To apply for this role, fill out the below application form and an advisor will contact you with next steps.